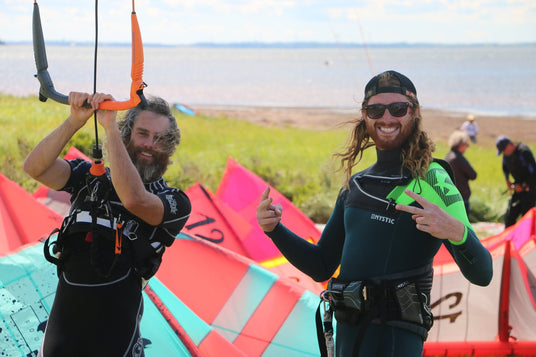 What to expect at a Demo day?
Hangout with the homies, try some new gear, test a new board or two and enjoy the beautiful sport of kiteboarding!
Kiteboarding Demo Event Calendar
Our Kiteboarding Demo day's are held across Atlantic Canada, including Nova Scotia and Prince Edward Island. Checkout our 2023 Kiteboarding Demos happening this summer at Crescent Beach and Malpeque Bay!
Demo Day FAQ's
Attendees
Is there a fee to attend a demo day?

Nope! All demo days are held for free by us to help grow the kiteboarding community and local market. Just bring good vibes a smile, wetsuit, harness and come try some new gear!
What are the rules for trying out demo gear?

We provide a large selection of kites, boards, and accessories for proficent ktieboarders to try. In return we ask that testers respect their skill levels and the equipment there on, A.K.A. don't go for that megaloop board off on your first tack upwind. Keep your ride to a reasonable length (under 30mins) as there are others wanting to try out the setup you might be on!
What happens if the weather sucks?

Kiteboarding is a very weather dependant sport. This is why we try to schedule demo events across a weekend or 2-3 day timee period in the event of poor weather there might be another favorable day. For the latest and most recent updates to demo event schedules be sure to checkout our facebook event page here to stay up to date.